Membership and services
Membership Philosophy
Experience the pleasure of Body Shape and Great Spirit every moment of your day...
Platinum Health Club invites you to be part of an exclusive club, for long time healthy way of living.
We lead our club with result orientated services, and to reach results, our members are part of a dynamic, ever-updating wellness programs, all year round.
Once you get your Platinum Health Club Membership you will be welcomed in all our facilities:
High class Fitness room with state of the art equipment and personal TV's
Our unique Spa zone with pool, sauna, steam bath, relaxation room
Free towels to complete your experience in our luxurious changing rooms
Your membership – made for your personal needs
For every member – we can create special membership.
Long term memberships and corporate memberships are also available.
Corporate wellness
Did you know that 70% of healthcare costs are preventable?
Companies are losing lots of money every year, because employees suffer premature illness associated with cardiovascular diseases like high blood pressure, diabetes and obesity.
What does this mean for your business? Company benefits for providing a wellness program include lower healthcare costs, reduced absenteeism and greater productivity and morale. In fact, 86% of companies with more than 50 employees offer a wellness programs.
Services
Once you enter our club, you will be welcomed by our professional staff, who will offer in Bulgarian and English, all you need to complete your training and relax.
In Fitness
Personal Training
Finding time to train in today's busy society is not easy. With our personal trainers you can make sure you use that time effectively.
Your trainer will also help you to keep you motivated and monitor your progress, will make changes in your program as required. We are sure, that you will feel substantial improvements in the physical results after few sessions with our trainers.
Your personal trainer will:
Assess your current level of fitness
Listen to you and your goals
Devise a personal training program to achieve these goals in a safe environment
Continue to encourage and motivate you through creative and fun exercise programming
Follow up program
If you want to train with a program specialized for you and your needs you can do that with "follow up program".
Nutrition Programs
Every trainee needs proper food intake to develop muscle qualities and lower the level of fat. Our nutrition programs will allow you to have balanced healthy food depending on your personal needs and body shape goals.
Work time:
Monday to Friday: 7:00 - 22:00
Contact phones: (+359 2) 427 22 27; ###
Where we are?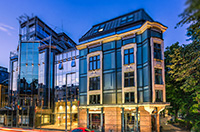 Platinum Business center,
26-28 Bacho Kiro str., Sofia
| | |
| --- | --- |
| tel: | (+359 2) 427 22 27 |
| mobile: | ### |
platinumhealthclub@yahoo.com
Working hours:
Monday to Friday: 7:00-22:00
Saturday: 10:00-19:00